Chris Watase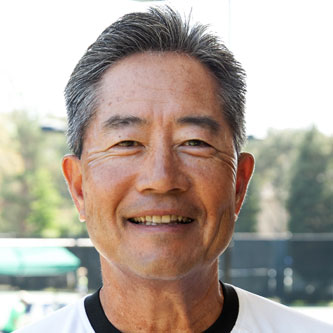 Click here to request a lesson time with Chris
Chris has over 35 years of professional teaching experience. He is a certified PTR affiliate sponsor and a promoter of USTA QuickStart Tennis for kids. Chris has been at Flint Canyon Tennis Club since 1999 and previous to that he taught at Whittier Narrows, while it was still managed by Horacio.
As a youth, he was the No. 1 player at West Valley Jr. College and was ranked 4th in the JR Colleges. He has been a finalist and winner of many Open Singles and Doubles events throughout the country as well.
Chris has a great understanding of the game, not only for adults, but with children's development as well. His nickname of "Sensei" was given to him by one of his students and has stuck around for years. Although not what it actually means – he has this nickname due to his ease and calm style of teaching, which many find uplifting and encouraging. Chris says that being the father of two boys has greatly helped him with understanding how to develop young kids' games as well.