Neil Raychaudhuri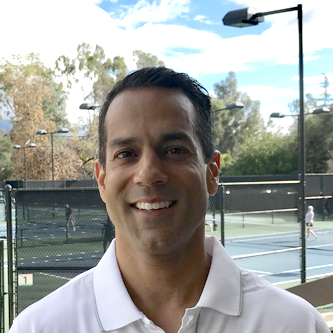 Click here to request a lesson time with Neil
Neil Raychaudhuri moved to Pasadena, California in 2012 from the NY/NJ metropolitan area and has been associated with the Flint Canyon Tennis Club for over four years.
The youngest of three, Neil's parents were both in the medical field, his father a Scientist and the his mother a Nurse. His two sisters were both junior and collegian champions. His oldest sister, Raka was a top four nationally ranked junior and won the NCAA Division II Individual and Team titles at a private University called Pace University in NY. Renee, the middle sibling, was a NY High School State tennis champion at the first singles position at 14 years of age and was an All-American at The University of Kansas.
Neil has a very accomplished competitive tennis history. He was a top junior in the Eastern Tennis Association (USTA), as well an All-State member of his High School tennis team (1st Singles, MVP and Coaches Award: Chatham High School, NJ) which allowed him to compete on the National level and received a ranking in the Top 40. Neil decided to go to school in the Midwest and attended and received a 4-year tennis scholarship to Eastern Michigan University a Division I school. From there he obtained a double Bachelor of Science Degree in Industrial Distribution and Business Management with a minor and focus in Business Marketing and Logistics. Before working in his field of study, he played on the Pro Tour for close to18 months.
Neil has been teaching tennis for over 17 years. An infectious personality and loves people and enjoys seeing his students achieve their goals and have fun doing it. He has held many Professional Titles, but at the end of the day Neil wants to be known as a tennis enthusiast who wants to help students grow in a game that has done so much for him.
He was a High Performance Coach for the USTA/Eastern Section in NY/NJ Metro area as well as an ITF coach. Neil was an Adult Director and Social Coordinator for Randi Mani Tennis Academy in Somers, NY. He held positions as a Program Director for Cliff Drysdale in Key Biscayne, Florida as well as Director of Tennis at the South Hampton Racquet Club, NY. He also was an Athletic Director for a Junior Development club in Hawthorne, NY.
Neil's technical teachings have been mentored by some of the legends of the game, and looks forward to sharing his tennis experiences, knowledge and stories on and off the court as well as participating in your growth as a person and a tennis player. Neil loves inspiration and one of his favorite quotes is by Nelson Mandela, "I never lose, I either win or I learn." As a teacher and as a student, he hopes to present this mindset to his clients.